Bishop David C. Cooper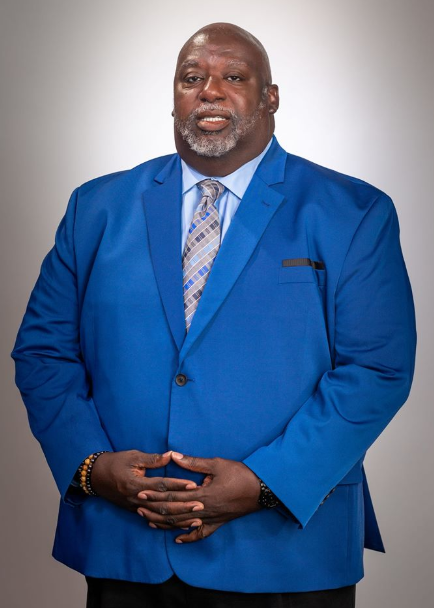 Bishop David C. Cooper is the senior pastor of New Hope Full Gospel Baptist Church, Albuquerque, New Mexico. An experienced pastor and leader, he possesses more than 30 years in ministry. Bishop Cooper began preaching at the age of sixteen and assumed the pastorate of his first church in Chicago at the age of twenty-one. Licensed and ordained at a young age, Bishop Cooper's ministry impact has spanned throughout the United States, the Bahamas, and Europe. Under the leading of the Holy Spirit, Bishop Coo
per has successfully transitioned the church into a ministry that disciples souls for Christ while also building leaders and meeting the holistic needs of the community. As a result of his leadership, New Hope Church has become a spiritual oasis in the desert and one of the most progressive ministries of the southwestern region and Albuquerque.
Bishop Cooper has a vast community resume including board chairman of the Gospel Music Fest of Albuquerque; Board member, African American Chamber of Commerce which serves the state of New Mexico; Immediate past-president and current community outreach leader of the Ministerial Alliance of Albuquerque & Vicinity; and Director, New Mexico Project SAVED, which provides education and prevention for HIV/AIDS with emphasis of outreach through the religious community. As a proponent of enhancing the quality of life for community, Bishop Cooper was awarded Honorary Doctorate Degree in Humanities from Louisiana Baptist University for the tremendous coordination efforts to assist victims of Hurricane Katrina. To date, he is only one of five African Americans to receive a Doctorate Degree from this prestigious University. Other Theologians earning their degree from LBU are Carl Baugh, and Jerry Falwell. Bishop Cooper's other academic pursuits include studies at DePaul University, Monmouth College, and Trinity Theological Seminary.
Presently, Bishop Cooper serves as a Regional Bishop in the Full Gospel Baptist Church Fellowship (FGBCF), an international fellowship of churches and ministries through the United States, Europe, Asia, and the Bahamas. He also serves as a member of the Bishop's Council, its governing arm. Bishop Cooper oversees the Southwestern Region which includes New Mexico, Texas, Colorado, and Oklahoma and under this auspice leads more than 100 churches. Through the FGBCF, Bishop Cooper was responsible for coordinating receipt and distribution of $1.5 million in materials, goods, and services to Louisiana residents affected by the damage and floods resulting from Hurricane Katrina. These heroic efforts also lead to Bishop Cooper receiving the organization's Unsung Hero Award. Additionally, he received the 2006 Visionary Award for having the fastest growing region in the fellowship. The award is bestowed by Presiding Bishop Morton, on the individual whose ministry most closely exemplifies the vision of the fellowship.
Of his many accomplishments, Bishop Cooper considers his chief accomplishment to be leader of his home –- husband to his beloved wife, Co-Pastor Nina Cooper, and his sons, David Cornelius Cooper, Jr., and Andrew Frederick Cooper.